Corporate Transformation Resources (www.corptransform.com) was founded exclusively for the purpose of enabling Transformation Leaders to reliably plan, launch, cascade, and execute rapid, enterprise-wide transformations. This has been the sole focus of the firm for over 30 years, with a long list of rapid transformations of many major institutions in the U.S. and abroad. The firm's roots go back to when its Founder and President, Robert H. Miles, served for many years on the faculty at Harvard Business School and as Faculty Chair there of a unique residential program in which CEOs and their teams planned and launched corporate transformations.
This enduring and evolving practice has been focused and continuously refined into the firm's flagship methodology, Accelerated Corporate Transformation, or simply the ACT Method. It delivers transformation outcomes reliably and quickly across a variety of transformation-sized challenges, industries and sectors, organization types, and transformation leaders.
In a nutshell, the Accelerated Corporate Transformation (ACT) methodology is a proven, enterprise-level process architecture. It enables a Transformation leader to rapidly orchestrate the launch of the next major phase of his or her organization in a simple, high-engagement manner to achieve breakthrough results. The ACT methodology has been successfully implemented in some of the most iconic corporate transformations, including Apple, Black & Veatch, General Electric, IBM Global Services, Infineon Technologies, National Semiconductor, Office Depot, PGA Tour, PricewaterhouseCoopers, Rockwell International, Symantec, Southern Company, as well as a number of healthcare systems and hospitals, public utilities and emerging high-tech companies.
The ACT Method is organized around five distinct Phases. A typical fourth or Cascade Phase will be illustrated later with a video, which captures how a global retailer with 900 stores quickly rolled out its transformation from the CEO down to all employees. It reveals the high levels of detail and robustness that are characteristic of all five of the ACT-based Phases.
The many distinctive features of an ACT-based rapid transformation include:
Rapid enterprise-wide Transformation
Leader-led at all levels
The "No-Slack" Launch
The Rapid, High-engagement, All-employee Cascade™
Structured Dialogue and "Safe Passage"
Sustained Focus by "Doing More ON Less"
Launch Speed = Simplicity in content x Compression of process
"Quick Starts" and early Breakthrough Results
These ACT features generate significant side-benefits in terms of organization and management and culture enhancement. And the overall ACT intervention leavens and strengthens the management process.
The ACT Method has recently been codified into two primary resources that are broadly accessible.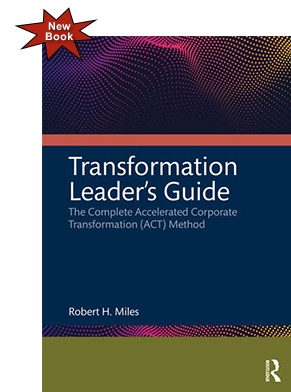 Transformation Leader's Guide:
The Complete Accelerated Corporate Transformation (ACT) Method


Routledge 2022


by Robert H. Miles
ISBN: 9781032224794

The first resource is a detailed book that takes transformation leaders, executive teams, and support staffs systematically through the sequential phases of rapid, enterprise-wide transformation, including all the content, frameworks, templates, techniques, and tools essential for success in each Phase of the project. Because of its comprehensiveness, the book is intended to become the definitive guide for Transformation Leaders. It reliably achieves rapid, organization-wide transformation by simplifying the content and compressing the processes normally associated transformation attempts, and by infusing a dozen new transformation constructs that enable the project to be leader led at all levels. Finally, ACT-based transformations are rolled out using our proprietary "Rapid, High-engagement, All-employee Cascade™ which lets the transformation be implemented quickly in a consistent manner in all parts and levels of the transforming organization.

Order direct from Routledge and save 20% enter the code FLA22 at checkout.

The second resource is a comprehensive but streamlined, video-based, on-line version of the book.

Transformation Leader's Guide:
The Online Course
FLEVY.COM 2022
by Robert H. Miles


A leading management consulting firm recently reported that over 70% of attempts at corporate transformation fail! Hence, there is a great need to have a virtual course on the ACT Method that is available internally in a just-in-time manner. In 10 video-based Learning Modules and 47 Lessons, our online course takes the learner into the arena of rapid, enterprise-wide transformation. The course may also be deployed to herald the coming of the transformation, give all levels of the organization a head's up, and prep employees about upcoming phases of the ACT-based rollout.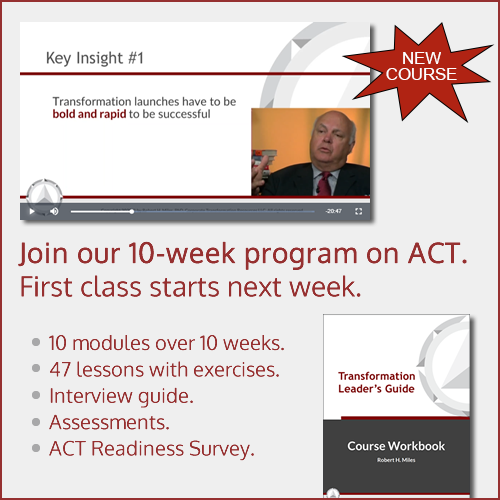 Upon successful completion of our online course and assessment, you will receive a Certificate of Completion signed by Dr. Robert H. Miles.
Together, the book and course versions of the Transformation Leader's Guide should serve as indispensable resources for anyone leading or supporting a rapid, enterprise-wide transformation. Line managers, strategy consultants, learning and development professionals, strategic planners, corporate communication experts, and human resources managers will be able to leverage these two resources. And more broadly, anyone interested in the inner workings of top leadership circles will appreciate the insights these two ACT-based resources provide.
Tune in to our FREE webinar on Introduction to Accelerated Corporate Transformation (ACT), led by Robert H. Miles.
Finally, before deciding on your overall transformation approach, we encourage you to take our free webinar on the ACT Method. This webinar is an excerpt from the 10-week Flevy Executive Learning (FEL) online program teaching the ACT methodology. Called the Transformation Leader's Guide: The Online Course will provide an overview of the ACT methodology and serve as an introduction to the FEL program.