by Robert H. Miles, Ph.D.
Jossey-Bass Publishers, A Division of John Wiley & Sons, 1997


"The framework Bob Miles illustrates in his new book has been the key tool Symantec has used to start the shift from being a technology-driven to a customer-driven company. Business leaders facing a variety of corporate transformation challenges will benefit from this important executive briefing."
-Gordon E. Eubanks, Jr., Chief Executive Officer, Symantec Corporation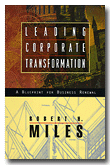 The distillation of a stellar twenty-year career, Leading Corporate Transformation is consultant Robert Miles's reply to executives who want to be able to rise to the most pervasive challenge facing them today: how to achieve fundamental transformation without exposing the organization to unacceptable risk.

Here, in the form of an executive briefing, are the expert guidance and tools you need to meet a variety of corporate transformation challenges, whether you are trying to reposition a successful company, revitalize a failing one, merge different businesses and cultures, or manage a leadership succession process. These insights are relevant not only for senior executives, but also for leaders at all levels of an organization undergoing fundamental transformation.

By sharing success stories from his professional experiences-the ones in which his detailed framework for large-scale transformation was used-Miles shows how you can:
Decipher the initial conditions required to launch and accelerate transformation
Generate a strategic vision and business success model
Align your organization and your people along the critical path
Advance a process architecture for keeping everything on track
If you are a leader-at any organizational level-who must effect fundamental change, you will want to keep this book close at hand.



ROBERT H. MILES

Speaker, Author,
Business Advisor,
Global Thought and
Practice Leader



A widely recognized thought and practice leader in the field of corporate transformation and strategy execution, Bob is a gifted business advisor and process architect.

Based on a unique senior executive program he chaired at the Harvard Business School earlier in his career, Bob developed a simple, powerful approach for accelerating the achievement of breakthrough results across a variety of corporate transformation challenges.

Called Accelerated Corporate Transformation, ACT has stood the tests of fundamental transformations at such leading companies as GE, IBM Global Services, National Semiconductor, Office Depot and Symantec. ACT has been called, "A simple, no-nonsense process that is thoroughly grounded in reality, inclusive of people and 100% results-oriented."

Once reserved only for executives in residence at Harvard Business School and a select group of global companies, the basic principles for addressing breakthrough performance are now available in his new book BIG Ideas to BIG Results with Dissero Partners colleague Mike Kanazawa, and through his new Speaking Series.


Cloth

May 1997

ISBN 0-7879-0327-2

256 pages

$25.00


---
Corporate Transformation Resources is led by Robert H. Miles, a long-time thought and practice leader in the fields of business transformation, organizational effectiveness, culture change, and executive leadership. Bob Miles has pioneered an Accelerated Corporate Transformation, or ACT methodology that enables new CEOs to rapidly take charge in a high-engagement manner.