Accelerated Corporate
Transformation ACT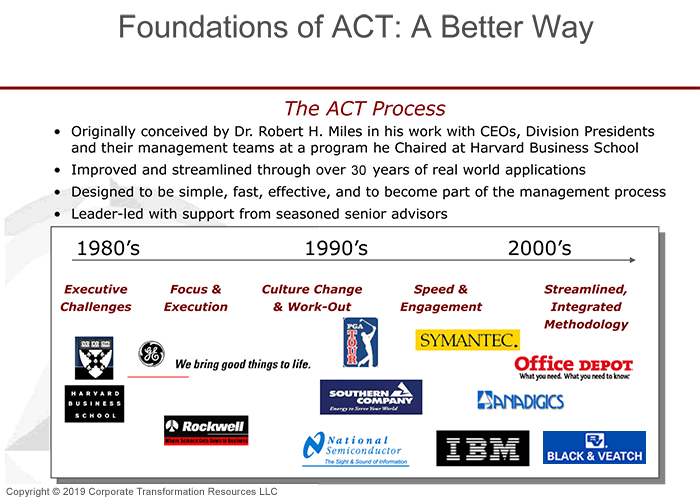 The origins of ACT may be traced back to an innovative executive program chaired by Robert H.Miles at the Harvard Business School. The program invited CEO, business presidents and their teams to the Harvard campus for two weeks, during which time they worked together to help each leader develop a plan for dealing with the major challenge confronting their organization. Executives and their teams returned to campus nine months later to explore what they learned from trying to overcome their corporate transformation challenges. Follow up with these corporate teams and research conducted on their patterns of successes and failures formed the foundations of the ACT methodology.

Since then, ACT has been field-tested and refined in over 30 of the most iconic corporate transformations of the past three decades.
---
Corporate Transformation Resources is led by Robert H. Miles, a long-time thought and practice leader in the fields of business transformation, organizational effectivess, culture change, and executive leadership. Bob Miles has pioneered an Accelerated Corporate Transformation, or ACT methodology that enables new CEOs to rapidly take charge in a high-engagement manner.