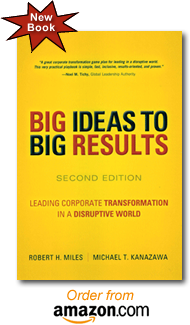 Second Edition, Pearson 2016
by Robert H. Miles and Michael T. Kanazawa
ISBN: 978-0-13-419384-7


Why do most corporate transformation leaders fail to achieve breakthrough performance? They make things too complex. They clutter it with jargon and confusion. They pancake new initiatives on top of old ones. They dither on the launch pad. They chase too many fads. And they fail to make it "safe" for leaders to lead the transformation at their own level. In short, they don't have a reliable corporate transformation game plan.

It doesn't have to be that complicated.

A PROVEN NO-NONSENSE, STEP-BY-STEP, RESULTS-DRIVEN APPROACH TO DRIVING CORPORATE TRANSFORMATION AND BREAKTHROUGH PERFORMANCE IN A DISRUPTIVE WORLD.


DrawIng on over 30 years refIning and applying ACT, initially with new CEOs and their teams at Harvard Busmess School and then by supporting leaders of corporate transformationa across a variety of industries. Miles and Kanazawa layout a simple and compressed roadmap for stepping an organization and all of its employees through a sequence of phases that ensure transformation success. ACT strips away complexity and indecision, helping you move far more rapidly and predictably from confronting reality and strategy development through execution to breakthrough results, at any level, in any function, in any organization.

Whether you're executing a new initiative, restoring your company's growth, entering a new market, or attempting to transform your enterprise, this book will help you find the right path, clear the obstacles, and get to breakthrough performance – safely and quickly.



"A great corporate transformation game plan for leading in a disruptive world. This very practical playbook is simple, fast, inclusive, results-oriented, and proven."

- Noel M. Tichy, Global Leadership Authority


BIG Ideas to BIG Results equips CEOs and executive leaders to successfully engage and overcome several pervasive corporate transformation challenges:
ENABLING NEW CEOS ANO EXECUTIVE LEADERS TO "TAKE CHARGE" IN A RAPID HIGH ENGAGEMENT MANNER TO LAUNCH THE NEXT MAJOR PHASE OF THEIR ENTERPRISE.
EQUIPPING SITIING CEOS AND EXECUTIVE LEADERS TO SUCCESSFULLY TRANSFORM THEIR COMPANY'S COURSE AND ACCELERATE GROWTH.
RAPIDLY DEPLOYING NEW STRATEGIC INITIATIVES TO ACHIEVE EARLY BREAK-THROUGH RESULTS
ENGAGING ALL MANAGERS AND EMPLOYEES IN A RAPID, HIGH-COMMITMENT MANNER, AND HOLDING THEIR ATTENTION
SMOOTHLY AND QUICKLY INTEGRATING MERGED COMPANIES
Leading Corporate Transformation:
A Blueprint for Business Renewal
by Robert H. Miles

The definitive guide to sucessful corporate transformation. An executive briefing for the executive leader who wants to apply the same winning approach developed by Robert H. Miles and used in the extraordinary transformations of some of the nation's top corporations.

"In this book, one of the world's most experienced change agents identifies the skill set required of leaders at all levels in the enterprise to drive sucessful corporate transformations. This book should become required reading for all managers in a business undergoing fundamental change."

-Chief Learning Officer, Royal Dutch Shell

"The framework Bob Miles illustrates in his new book has been the key tool Symantec has used to start the shift from being a technology-driven to a customer-driven company. Business leaders facing a variety of corporate transformation challenges will benefit from this important executive briefing."

-Former Chief Executive Officer, Symantec Corporation

The distillation of a stellar twenty-year career, Leading Corporate Transformation is consultant Robert Miles's reply to executives who want to be able to rise to the most pervasive challenge facing them today: how to achieve fundamental transformation without exposing the organization to unacceptable risk.

Here, in the form of an executive briefing, are the expert guidance and tools you need to meet a variety of corporate transformation challenges, whether you are trying to reposition a successful company, revitalize a failing one, merge different businesses and cultures, or manage a leadership succession process. These insights are relevant not only for senior executives, but also for leaders at all levels of an organization undergoing fundamental transformation.

By sharing success stories from his professional experiences-the ones in which his detailed framework for large-scale transformation was used-Miles shows how you can:
Decipher the initial conditions required to launch and accelerate transformation
Generate a strategic vision and business success model
Align your organization and your people along the critical path
Advance a process architecture for keeping everything on track
If you are a leader-at any organizational level-who must effect fundamental change, you will want to keep this book close at hand.

Cloth

ISBN 0-7879-0327-2

256 pages

"Accelerating Corporate Transformations (Don't Lose Your Nerve),"
by Robert H. Miles,
Harvard Business Review
January-February 2010, pp. 67-75.

Reprinted in the "Reinvention" issue of HBR OnPoint, Spring 2012.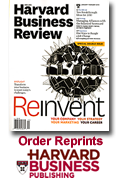 Excerpt:

"Ask any CEO who has overseen a corporate transformation what should have been handled differently, and you are likely to get this answer "We should have—and could have-moved faster."

Such executives have a long list of regrets: They wish they had unified the leadership team right away. They wish they had engaged employees sooner and quickly drummed up support for the new vision. They wish they hadn't waited so long to test their assumptions and refine their key initiatives. And they wish they had generated some visible returns early on, to accelerate the commitments and reinforce the expectations of employees, customers, suppliers, and investors."
"Beyond the Age of Dilbert: Accelerating Corporate Transformation by Rapidly Engaging All
Employees,"
by Robert H. Miles,
Organizational Dynamics
, Special Edition, Summer 2001.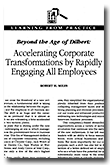 Excerpt:

"As we cross the threshold of a new millennium, a fundamental shift is taking place in the relationship between the organization and the employee in all business sectors. The shift is so huge and the consequences so profound that it is almost as though we are witnessing a time-accelerated shift in two tectonic plates. The plate that is sliding under the new one is submerging an era in which management was the predominant focus in business enterprise. This Era of Management deified a. long line of corporate visionaries, including Lee lacocca of Chrysler Corp., Jack Welch of General Electric Co., Sam Walton of Wal-Mart Stores, and Andy Grove of Intel Corp., to name only a few of the era's highest priests."



"Accelerated Organizational Transformation: Balancing Scope and Involvement,"

by Robert H. Miles in
Breaking the Code of Change
. (Boston: Harvard Business School Publications)
2000, pp. 381-406.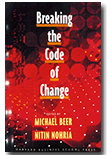 Excerpt:

"The challenge sweeping over almost all industries today is the need to achieve rapid-cycle, organizational transformation. Not rapid-cycle, project-based, incremental change or slow, lumbering, organization-wide transformation...Large, complex organizations do not rapidly change by sequentially pursuing a series of short-cycle projects. The learning cycle involved in such an approach is simply too protracted and the anticipated diffusion of learnings throughout the enterprise too unpredictable to keep up with the increasing pace of change imposed on the organization by the external environment.

So how do we speed up the process of corporate transformation and at the same time increase the capacity of leaders/managers at all levels?"
"Leading Corporate Transformation: Are You Up to the Task?"
by Robert H. Miles in
The Leader's Change Handbook
. (San Francisco: Jossey-Bass Publishers, A Division of John Wiley & Company)
1999, pp. 221-267.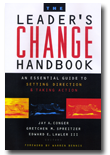 Excerpt:

"To master the new pace, transformation leaders have to get it right the first time. They can't wait for early successes to hatch before the rest of the organization catches on. They have to hit the beaches simultaneously on all fronts. They no longer have the luxury of gradually cascading new ideas and expectations down through the organization. They have to greatly enrich and accelerate the processes of learning within the organization. And they have to quickly engage all employees, obtain their commitment, and enable them to lead at their own levels."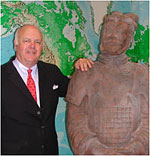 ROBERT H. MILES
Business Advisor,
Global Thought and
Practice Leader'
Speaker, Author

---
Corporate Transformation Resources is led by Robert H. Miles, a long-time thought and practice leader in the fields of corporate transformation, organizational effectiveness, culture change, and executive leadership. Bob Miles has pioneered an Accelerated Corporate Transformation, or ACT methodology that enables new CEOs to rapidly take charge in a high-engagement manner to launch the next major phase in their enterprise.